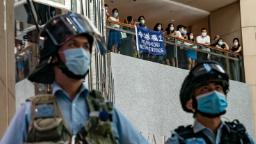 According to reports in Communist Party-controlled media, the law is expected to criminalize offenses such as secession, subversion against the central Chinese government, terrorism, and colluding with foreign forces. But hours after its reported passage, details remain vague, capping a particularly opaque process that has left analysts and activists guessing.
Speaking at a weekly press conference Tuesday morning, the city's leader Carrie Lam initially refused to answer questions about the law, saying it was "inappropriate for me to comment." Hours later she later defended it in a video speech to the United Nations Human Rights Council in Geneva, saying it will restore stability and prosperity to Hong Kong.
Her administration appears to have been cut almost completely out of the process — yet it has not stopped them predicting the law will only impact a tiny minority of individuals in the city, and won't harm political freedoms and judicial autonomy.
In a statement last week, Lam said the legislation would be "in line with the rule of law" and the "rights and freedoms which are applicable in Hong Kong."
Chilling effect
Such talk could be illegal under the new law, if it follows the model of similar legislation in China as expected. Wong, Law and Chow have also been heavily involved in lobbying the international community to pressure Beijing over Hong Kong, which many expect to be classed as "colluding with foreign forces."
Two other political parties, the Hong Kong National Front and Studentlocalism, also said they were ceasing operations in the city, though both groups — fringe pro-independence parties — said they would continue to work overseas.
Some pro-independence figures are known to have fled Hong Kong in recent months, fearing arrest in connection with last year's often violent anti-government protests, or the upcoming law. On Sunday, Wayne Chan, convenor of the Hong Kong Independence Union, confirmed he had jumped bail and left the city. He had been facing protest-related charges.
Legal limbo
While pro-government groups and politicians welcomed the passage of the law — former leader C.Y. Leung offered bounties for future prosecutions — there was great frustration among many Hong Kongers over the continued lack of detail, and a feeling of almost being in limbo, knowing the law has been passed but not what that means.
In a letter to the city's government Monday, Hong Kong Bar Association chairman Philip Dykes said the secrecy of the law was "genuinely extraordinary" and called on the government to make clear how citizens' minimum rights will be guaranteed.
Such uncertainty will likely persist beyond Tuesday night, when the bill is finally expected to be made public and gazetted. Regardless of how the offenses are described or the punishments laid down, many will be watching to see how strenuously police and prosecutors enforce them.
A key test will come on Wednesday, when Hong Kong marks the 23rd anniversary of the city's handover to Chinese rule. The day has traditionally seen an anti-government march through the city, but the protest has been banned this year.
Organizers say they will go ahead anyway. Yet how many people join them, and what offenses — if any — those people are deemed to be committing if they do, remains to be seen.